What to Expect in the Coming Expansions.
So its that time again folks. Today CCP announced the winter expansion under the name of EVE: Rubicon due early at a date of
NOVEMBER 19th
and gave us a idea of what to expect.  
The announcement began with CCP Seagul giving us a scope of what to expect in the coming years, something I personally am very excited about. Space Colonization, it appears that the hour of the NPC empire is up and the dawn of the capsuleer has begun and we will soon witness what happens when capsuleers are given "unprecedented control". And as the question of "what would happen if capsuleers were not bound to the known universe" is explored we are told to expect to be taken on a journey, knowing nothing of its destination only that the fundamental will be questioned
Customs Offices in Highsec
Following the theme of complete colonization the first feature to be announced was a change to the way high sec customs offices will work. In Rubicon players will be able to destroy NPC controlled customs offices in high sec and replace them with their own, with all of the functional controls of any other player owned customs office (setting the tax etc). This new feature could open up an entire new facet to the game, bringing new sources of wealth and new reasons for war as players fight over the most desirable planets.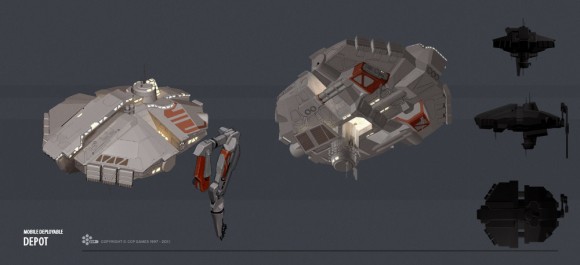 Personal Deployable Structure
A new breed of player owned structures are on their way, going by the name of Personal Deployable Structures, a set of smaller, inexpensive and temporary structures aimed more to be used by small gangs and single players rather than large corps and alliances.
The Siphon Unit: The first of the four to be announced was is the Siphon unit, a device which can be deployed outside of a starbases and proceeds to steal resources from it, allowing players to rinse un-watched starbases for all they're worth with a relatively little risk, anyone can access the siphon units cargo so its to be noted that the owner could show up at any time and steal his items back.
The Personal Depot: The depot sounds like it is going to be an absolute godsend, it allows single players to deploy a personal base of operations for long deployments, the depot with provide the player with certain facilities to allow them to spend longer amounts of time away from their home system (presumably will allow the storage of large amounts of cargo and possibly ship repair etc, use your imagination) the depot is to be the hardest to pop of the four, sporting a reinforcement system allowing players to better defend them.
Automatic Looting Device: Every mission runners dream, the auto looting device can be deployed on the battlefield and it will autonomously pull owned wrecks to itself and store the contents in a single cargo hold for easy looting, while the unit does not salvage the wrecks it will pile them into a single spot for convenience.
Deployable Cyno Jammer: The final personal structure to be announced was a small cyno jammer which can be deployed form cargo and has a range of roughly 80ish km (ambiguous I know), this will allow players, especially small ships and ratters to protect themselves from being hot dropped, its to be noted however covert cynos are immune.
Warp Acceleration fix.
Currently the time it takes to reach max warp speed is fixed for all ships, this usually means that a ship with a faster max warp speed doesn't really feel the advantage, this however is all going to change as faster ships will accelerate faster. In my opinion this will completely change the face of pvp as a tackler may be able to enter warp seconds after a battleship and still land before it ready to jam, something I am really looking forward to.
Balancing
As with all expansions Rubicon comes with its share of ship balances, below are just a few of the ones to expect.
Interceptors: Firstly interceptors are going to benefit massively from the warp acceleration fix making them far meaner tackling ships, it was also mentioned that the idea of bubble immunity for interceptors is being toyed with, something which could transform wolf gang pvp and further transform the interceptor into a class to fear. Along with these two buffs it was also mentioned that the class are having their cargo bay reduced to lower their versatility as cyno ships.
Marauders: Eve online will soon contain transformers and players can side with either autobot or deceptacon… obviously I'm kidding, but what is awesome is marauders will be introducing a new mode to the game known as "Bastion Mode" at which point the ships graphic will transform, and without a doubt look awesome. Bastion mode will cause marauders to have both huge tank and EWAR immunity, and cause the marauder to remain stationary (however the bastion cycle time is to be much lower than siege or triage etc). Out of bastion mode marauders will receive a bonus to micro jump drive cycle time allowing them to bounce around a battlefield much faster than other classes
Interdictors: Not much information was given on dictors, however it is to be noted that they will benefit massively from the warp acceleration change, and to expect new bubble art.
Electronic Attack Frigates: Final class to be mentioned is the electronic attack frigates, which are being dragged out of the "useless pile" and into the "oh crap, better avoid him" pile, of course along side the bonus from warp changes, EAFs will be receiving nearly a double to ranges of EWAR, bringing it closer to that of the recon ships and transforming the EAFs into something to worry about.
New Modules
A new large module known as the Rapid Heavy Missile Launcher was announced, not a lot was said of it but the new launcher will be a large cousin of the assault launchers, firing cruiser sized heavy missiles with a large rate of fire from a battle ship (lets face it, from a raven) allowing an output of BS sized damage on much smaller ships than cruise missiles or torpedo's can handle.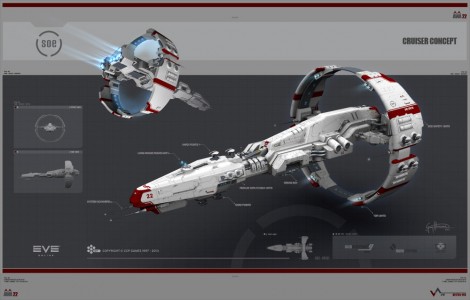 New "pirate" faction ships
Finally, something I've been waiting for a long time is a new set of "pirate" ships. The Sisters of Eve ships will combine Gallente and Amarr skills giving bonuses to armour and drone damage. The ships are based around long deployments, exploration, scouting etc, expected to have hacking and probing bonuses, and be able to operate CovOps cloaking devices.
Not to mention they are ruddy beautiful.
Adding Rope Ladder to the Cliff Which is Eve's Learning Curve.
Various changes to the eve UI will be made, ones that to me seem like it will make getting into the game a hell of a lot easier and less daunting.
Certificate system: The certificate system is having a complete overhaul, becoming far cleaner and more organized and giving a much better direction for people unsure of what to train.
Interbus Ship ID system: A new interface which seems to be a tree diagram of the different ships in game, it will provide players with a general structure (so no longer will you train for a mammoth in preparation for your moros), it will also highlight ships your skills are particually suited for and give a rough idea of what your character is best suited for. In summary it looks pretty nifty
Character Selection Screen: Expect an update and a much cleaner and nicer character selection screen, because "statistics show that 10 in 10 players use the character selection screen, so its pretty popular"
Twitch: And last but not least, eve will soon have TWITCH integrated into it, allowing you to watch and record streams in game, opening horizons for training exercises and advanced intel etc more easily.
So that's all I got folks, obviously there is much more to be announced and the items touched are subject to change but what do you think of it all. Pop a comment below and lets get this flame war started.