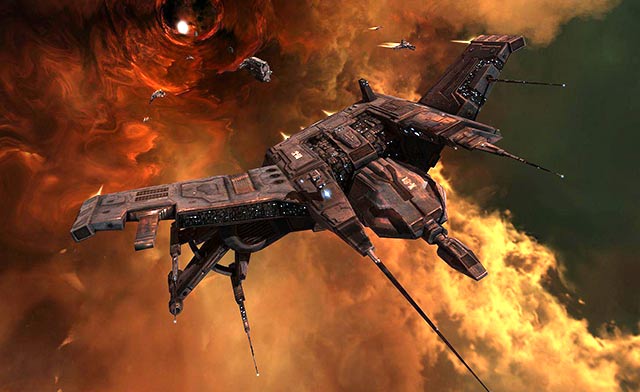 There is a very interesting (to me at least) discussion going on over on reddit about the state of Anoikis. The post that started it off was this one by Hisecnoob:
"Hi All. I have been wanting to jump into W space for a while now, but after doing some research I have seen a concerning trend with W space. Multiple posts on Reddit (Aperture Harmonics moving for example) and in the EVE forums talk about how certain classes of WH being almost entirely abandoned, Class six space specifically. Whats happening? Is WH space taking a massive hit? or is it a phase?"
To be sure, there have been some changes ongoing in higher class wormholes. To be sure, Surely You're Joking (SYJ) has been a part of those changes. We were hired to do a job. We did it well. That's what we do. But it's important to understand the turmoil was already there. We didn't instigate the issue, we just helped one party in the argument make a point. And that's sometimes how alliances go. It's no different than what happens in null-sec or faction war or anywhere else in New Eden.
That's the great thing about Eve Online. It's always changing like that. If you're curious about what's happening in the most secret corners of New Eden, go give the thread a read. There is some interesting, and sometimes surprising, information in it. And don't worry about "the state of wormhole space." It is precisely as it has always been.
I think the best reddit comment about life in a wormhole was made by calmdownroundeye. I'm going to excerpt it here because I couldn't say it better myself,
"You don't get breaks living out of a wormhole; you're usually either 100% PvPing, or 100% heavy grinding, and in true Wormhole fashion, there's no lazy mode kick the chair back afternoon and do some easy shit… it's either hard grind, hard PvP, or hard logistics running."
I can attest to this. There is no activating your ship and not paying attention. There are no lazy days in Anoikis. For example, we had a little incident not long ago where most of the online pilots were out on a null-sec roam. Great fun was being had by all. But we still had eyes open back home and something started happening that raised the alert flags. Within minutes we had a dozen ship fleet formed back home, including your's truly who was doing some of that hard logistics running, to take care of it.
Once the issue was taken care of, everyone went back to the null-sec roam to happily DIAF to a TEST bomber fleet. I went back to trying to do the hard logistics running, but as we'd rolled the static, it was more like hard exit scanning. Seventeen wormholes later, all I had was null-sec exits. That's life in a worm hole. It isn't easy, and you can tire of it quickly if you stick your head in the sand and think you'll be happy never leaving the home system.
The secret to avoiding burnout is understanding you may be based in a worm hole, but all of New Eden is at your doorstep. Many in SYJ have a fleet of ships in our C6 and a fleet of ships in high-sec. We are constantly going other places and doing other things even if that requires a blood jump. Anoikis is about exploration and change and never having to do the same thing all the time. The holes roll every day. Don't let them roll you by.
Fly Careful
– Mabrick
He's been around the block a time or five. With over 15 years of MMO playing under his belt and a memory that reaches back to pencils and dice, he offers his insights into the not so virtual reality we call Eve Online.