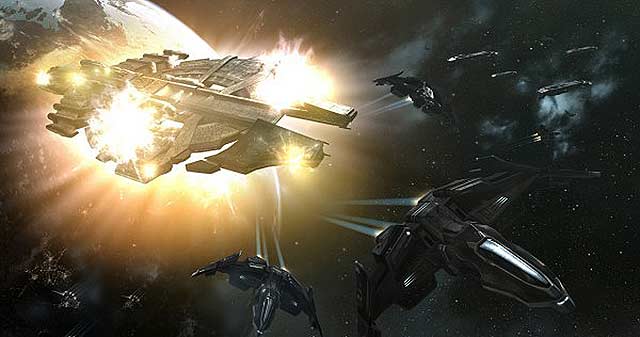 Today a Nyx belonging to pilot Sorry Two of R O G U E alliance was destroyed in the Cobalt Edge system of X-41DA by a force consisting of Northern Coalition. and WHY so Seri0Us.
The Northern Coalition. fleet was lead by Alexander Jabez and Travis Musgrat and according to Alex:
Alex Jabez: We rf'd the things, and the day before they came out we logged off supers and triage in system.
Alex Jabez: On the day we brought in a domi fleet to fight their raven fleet on the gate, which was pretty evenly sized
Alex Jabez: and logged in the supers in system to down the jammer to bring the rest of our caps in
Alex Jabez: apparently the nyx we killed panic logged in, and decided to help rep the CSAA
Alex Jabez: but once he realized they were losing he went inside the shield and tried to bounce himself out to get away by resetting the password on the POS
Alex Jabez: but by that time we had the jammer down and the supers/titans were on grid
Alex Jabez: so when he bounced out he unluckily landed in our super blob w/ a hic bubble
The actual KM can be seen here.
This mail was sent out to R O G U E alliance after the reinforcement occurred:
Tonights attack by NC.
From:Mordox
To:R O G U E [Eve Who] [Eve Kill] [DOTLAN] [Evegate]
Date:2013-07-23 04:05:00

All,

A brief summary of tonights events.

1. A fleet force from The Explicit Alliance and Intrepid Crossing attacked our PoS in X-41.
2. We defended our PoS with a few frigate losses and 5 enemy ships destroyed. http://roguekill.eve-kill.net/?a=kill_related&kll_id=18868483
3. Unfortuantely Northern Coalition. chose this time to violate our NiP and attack our system.
4. It is not clear why Northern Coalition. simply attacked. We have a clear NiP in place for this Region.
5. The PoS was reinforced by the NC. Super fleet. dscanresults.php?ID=4081798f2ba226db063b883d5a6f2128
6. We will continue to fight our enemies and support our friends.

I admire how all of you have held together as an Alliance. The CTA for this timer has been posted.

More information to come soon. See you all at the timer.

Mordox
According to Vince Draken, exec of NC. the reason behind the attack was…
Amymuffmuff: Did you break any NIP and if so why, and why did you go rf the tower in the first place?
Vince Draken: oh they decided to join CFC
Amymuffmuff: rgr
Vince Draken: and join the fountain war
Vince Draken: told pilots to move to 4-e
Vince Draken: so they broke our nip agreement
Vince Draken: i gave the green light to remove them from drones
Vince Draken: that's pretty much it
Just goes to show that actions do have their consequences and hopefully won't be the last loss seen in similar circumstances.
-Amymuffmuff