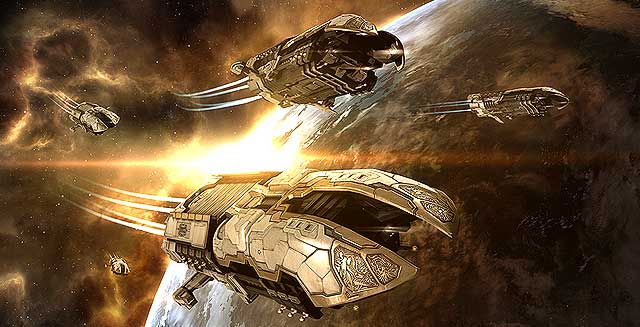 In nullsec frigroams are considered "fun" and "PvP experience" is required to join. I'm in nullsec with zero frigroams behind me and no FC ever complained on my performance in fleets. Seems, someone is wrong. Instead of pointing fingers, let me look this problem on a different perspective. Actually on the perspective on two different perspectives.
The competitive people are sorting things as "PvP" and "PvE". The decision is made on "attempting to gain dominance over other person". The objective-oriented person is sorting things as "effective" and "waste of time", based on reaching their goal or not. The two are not opposites, rather speaking in different languages. Let me give some examples:
Getting ISK: for a competitive person, that's a boring grind, a chore needs to be done. For an objective-oriented person it's an accomplishment which he does with involvement and effort.
Ganking: for a competitive person that's a dumb activity, since it only proves that a Catalyst is stronger than a mining barge, regardless of player skill. If an objective oriented person wants to climb the killboard, this is a rewarding and involving activity.
Frigate PvP: for a competitive person, it's an involving activity since frigates are the fastest, demanding the best player reactions. For an objective oriented person – unless he flies in alliance tournament – it's a big waste of time as the losses and gains are trivial.
PvP roams: a competitive person finds much fun in it, since not only he wins in PvP but does so with friends. For an objective oriented one, it's a waste of time as killing random targets have no gain.
Strategic operations: for both of them it's rewarding, for different reasons. For a competitive one – like a roam – it's an opportunity to dominate another group with his friends, while an objective oriented receives a direct objective: the system/station/POS ownership
The last point is important, because unlike all previous ones, they agree on it. Without it, they would be two opposing groups. However this point allows them to coexist in the same group.
However to do so, they must understand each other and it's missing now. A competitive group typically demand "PvP experience": killboard history. Since the player couldn't participate in startegic fleets in highsec, it is equal to demand him roams and small-ship PvP what he hates. This demand isn't "evil", just self-centered, assuming that if someone didn't like roams, he will surely hate large fleets, therefore he won't show up.
In an imaginary "carebear alliance" probably a stable of doctrine ships would be demanded and poor roamers would be dismissed as "he won't have the ship and won't show up in structure-only fleets". Which is similarly not true.
This is a problem for me, because I could never get the requested "PvP experience", but – unlike the PvP-ers would predict, I perform on strategic fleets without problems. I'm sure there are many-many people in highsec who could very well fit in nullsec alliances, but don't get a chance to get there due to being gated by small-ship PvP.
– Gevlon Goblin