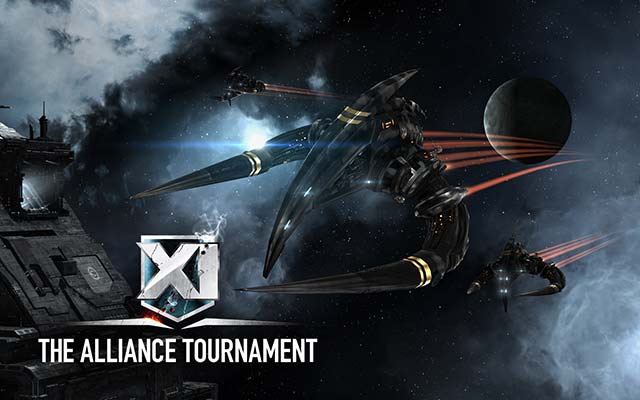 Check this teaser video out!
CCP Veritas and his programming excellence is helping the EVE Online team bring you the Eleventh Alliance Tournament this July starting on the 20th for three consecutive weekends. Reputations will rise, prizes will be won and many spaceships WILL explode.
July 20th & 21st, 27th & 28th, Finals on 3rd & 4th August.
Tune in on TWITCH.tv for more details and to watch all of the matches for free in HD!
On this very same topic.
Now that we are at it, here is the recent news piece put out by CCP Games regarding the AT XI, originally posted here.
Alliance Tournament XI to begin on July 20, 2013,
The highly anticipated Alliance Tournament XI with 64 teams fighting for eternal glory and great prizes will begin this weekend on July 20th and 21st at 13:15 UTC and will be continued on July 27/28 and August 3/4. The Alliance Tournament will be broadcasted and commented live by our tournament experts on the CCP Twitch.tv channel, the broadcast starts on July 20th at 13:15 UTC.
During and besides the tournament broadcast we will also host a series of competitions for the community. With the support of our tournament sponsors (Razer, Evetimecode and Alienware) you can win great prizes, so don't miss out on that!
And don't forget to check out the teaser trailer!
Alliance Tournament XI
Website information
Alliance Tournament XI
Schedule
Tournament live brackets
Free broadcast:
CCPGames twitch.tv page
July 20th from 13:15 – 22:00 UTC
July 21st from 13:15 – 22:00 UTC
Community competitions
Forum
EVE Alliance Tournament Discussion
Devblogs
Alliance Tournament XI Tournament prize ships and more!
Alliance Tournament XI features and prizes
Alliance Tournament XI commentator picks and other updates
Alliance Tournament XI Rules and Format
Alliance Tournament XI… and a call for commentators
Have fun and enjoy the AT XI!