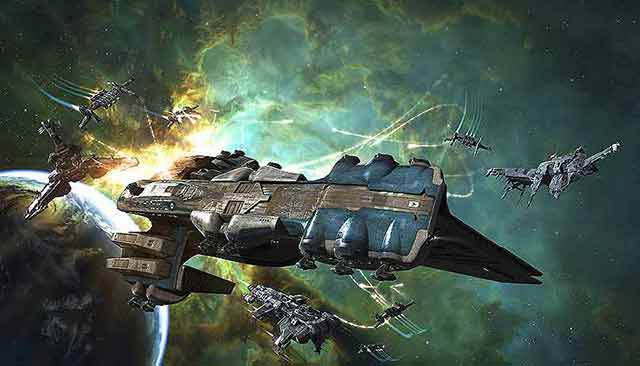 Good morning space adventurers!
IF YOU WANT TO CRITICIZE THIS PROPOSAL PLEASE READ THE EXPLANATION BELOW FIRST <3 Okay so I'm going to give you the numbers first, then do some text walling below to try and explain why we arrived where we did. Medium Rails (all sizes and metas): +15% Rate of Fire +15% Damage Multiplier -15% Tracking Speed Medium Beams: +25% Damage Multiplier -10% Tracking Speed Medium Artillery: +10% Rate of Fire -5% Tracking So the basic idea is that we're increasing damage by quite a lot for all medium long range turrets, while also lowering their tracking a little bit. From a high level, the goal here is to make long range weapons valuable enough that people are able to use them for both PVP and PVE without being laughed at. This is hard to accomplish without stepping heavily on the toes of either large weapons or short-range medium weapons. We felt that a large damage increase was absolutely necessary for there to be any chance of seeing increased use, but the higher damage goes the more pressure gets put on other weapon systems. By making tracking speed a bit worse we preserve a lot of the advantage that medium short-range guns bring, while also making medium long-range guns a great choice verse large guns in many situations. To understand why that last part is true, its VERY important that you understand how tracking works in EVE. I want to use an example here to help illustrate: The tracking speed on a standard Neutron Blaster Talos with Null loaded is .0794 The tracking speed on a new 250mm Railgun Deimos with Antimatter loaded will be .0304 It looks like the Talos tracks 3x as well as the Deimos. In reality, because of the role Signature Resolution plays, the Deimos will actually track moving targets about 19% better than the Null Talos. A real tracking number that combines tracking speed and resolution would look like this: Real tracking on standard Neutron Blaster Talos with Null loaded is .0001985 Real tracking on a new 250mm Railgun Deimos with Antimatter loaded is .0002432 If you want to make this kind of comparison for other ships and situations, divide tracking speed by the signature resolution of the gun and compare the resulting numbers. If you want to see an awesome in-depth explanation for tracking, I recommend reading THIS BLOG by Azual Skoll.
One of the discussions we had with the CSM on this topic (there were a lot) revolved around a situation where you get to choose which ship to bring to a fight where you will be shooting at Talwars. Do you want a new medium long-range gun ship, or an Attack BC with large short-range guns. So I made a DPS graph here showing three fits: a 200mm Rail Thorax, a 250mm Rail Deimos, and a Neutron Talos, all of which have 2 tracking enhancers fit. The situation shown would be if the Talwar has MWD on and is moving at full speed at an angle of 60 degrees (hopefully fairly average, though it will vary a lot). You can see what that looks like here:
DAMAGE GRAPH
There are of course a lot of other reasons to bring medium long-range ships over large like price, speed, resilience, and the option to shoot to much longer ranges. Overall we are still a tad worried about power creep here, but hopefully this will put medium guns in a healthy place in relation to their competition.
Be sure to check out the HEAVY ASSAULT CRUISER REBALANCE as well as many of those ships are affected by this change and vice versa
As always, looking forward to feedback.
CCP Rise