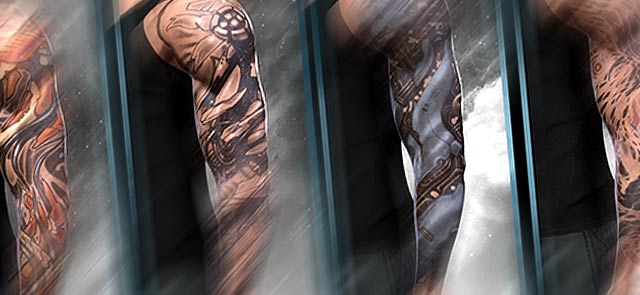 riverini's note: not exactly an earth shattering dev blog, but dear God! these tattoos are amazing!
Good afternoon brave pilots of New Eden,
I'm CCP Doom from the EVE Online marketing team with some exciting news concerning the upcoming EVE: The Second Decade Collector's Edition.
Whilst we're hard at work making sure that everything going into the box is looking 100% awesome (and if that means running around the office with the Rifter Hub prototype… then so be it!) we also wanted to reward those of you who are taking the plunge early and pre-purchasing ahead of the official launch in October 2013.
As announced during the 'CCP Presents' keynote at FanFest anyone pre-purchasing the Collector's Edition receives the beautiful Nefantar Thrasher Destroyer for EVE and the Amarr Drop Uplink for DUST 514
| | |
| --- | --- |
| | |
| A destroyer designed to help defend the re-established Nefantar tribe's spaceborne assets | A permanent item spawn point generator for strategy-minded mercenaries |
Today I'm happy to announce that anyone who pre-purchases the box set will be able to access a hot new customization feature; the ability to select a left or right arm permanent 'sleeve' tattoo for their designated EVE Online character.
There are four bold designs to choose from;
Just to clarify, if you have already pre-purchased the Collector's Edition then you will not miss out! You will be receiving a code shortly from the place of purchase allowing you to select your sleeve tattoo.
We saw many pilots getting inked at Fanfest and wearing their designs with pride, we hope that your in-game characters will be doing the same
Cheers!
CCP Doom \m/
The EVE Online items are timed exclusives, available initially to pre-purchase customers and available to trade in the marketplace. They will be made publicly available via in-game markets and promotions at a later date.
EVE: The Second Decade Collector's Edition will release in October 2013 and is available for pre-purchase now via the official EVE Store.