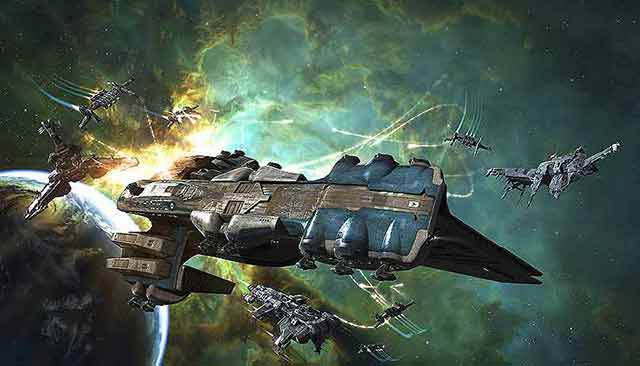 As long as everything what happens in nullsec is decided by AFK empires, most that part of Eve Universe will be empty of players and player generated content. Players currently living in 0.0 are no less under totalitarian opression from powerblocks that Central and Eastern Europe was 25 years ago. So, to paraphrase Ronald Reagan speach in Berlin back in 1987, "CCP, if you seek nullsec full of life, conflicts and good fight, tear down AFK empires!"
The impulse to write this text came from readling Glevion Goblin's attempt to diagnose the problem with nullsec being empty and people living there not wanting to fight outside big wars. Contrary to popular belief, apparently shared also by Glevion Goblin, the two biggest problems with nullsec are not "local" and "cynos/bridges". Both factors were part of Eve almost since it's begining, but I clearly remember nullsec being populated and full of PvP opportunities around 2010-2011, despite cynos and local. So what changed, what is the problem now? Anomalies were nerfed, turning more than half of 0.0 systems into wasteland not worth the trouble and people got more risk averse.
Right now, there's lack of incentive to be in the null. You can make better money elsewhere and – that's important! – without kissing anyone's ass. Let's face it – there's just no way a corp can get into 0.0 unless joins PvP powerhouse and participate CTAs because otherwise will get booted or joins renters and pay for the doubtfull privilege of living in 0.0.
Givining up sov 0.0 to big coalition is the biggest problem. What the hell happened to "no more AFK empires" we were promised in Dominion? Because this is exactly what I see roaming 0.0 from my WH safe haven – just empty, AFK empires. Most of system devoid of any inhabitant and renters not willing to even undock to see who's knocking on their doors.
To illustrate absurdity of current sov situation. I could easily create alt-alliance with my 1-man alt-corp and then go and ask a leader of one of big coalitions for a single system. Trust me, I'd get it with without so much as a blink. As long as my alt-alliance stays blue to that coalition, my system will be untouchable even if I won't set my foot there even once. Perfect definition for AFK Empire, right?
On top of that, current game mechanics allow system owners to do nothing when enemy roam arrives. Roaming gangs cannot disrupt local infrastructure in any meaningfull way, so all you really need to do when you see neuts or reds pouring into your system is to dock in station or warp to POS and wait. Why fight when there's nothing to gain by fighting? Roamers will get bored and move on. Even if there is 1000 enemies knocking on your door, you don't have to do anything besides showing up for ONE timer.
CCP tried to change that by introducing POCOs but failed miserably. Those things have EHP of small POS so are pretty much untouchable by roaming gangs. Even if 30 pilots prove to be determined enough to grind this thing, all they'll get is timer arbitrarily set for defenders prime time. But is POCO really worth defending? Nope, it's just 150 mil ISK, so loosing one med size ship over it is simply too much. Putting new one after the old one dies means less hassle and it works instantly. Seriously, what genius came up with that idea?
So how it really should be?
First off – more better anomalies potentialy available even in 0.1 truesec. A worst 0.0 should be more profitable than best hisec system, period. If this requirement is met, then a constellation is enough for alliance having few hundred players. A region is enough for few thousand players. Ballance sov cost so it will be really expensive to have sov spread over few regions. Force alliances to declare one system as their capital and make sov cost progressively higher the farther from capital given system is. That will kill AFK Empires, because even biggest alliance will only have as much sov as they really need. Stop claiming space just to prevent others from claiming it! Let nullsec be populated by many small alliances that could blue up or fight each other.
Next step is to create targets for roaming gangs. Right now, when roaming, your best case scenario is get "good fight", but more than often it's "just kill something". Worst case – burn 40j and see not even single enemy ship on grid. How about getting roaming fleet to harass your neighbours and ruin their day? Sound like fun?
Let's create small targets for roamers, with 2-3 mil EHP. Those structures should be easily accessible (so not on POSes) and their status should have direct impact on local infrastructure. Once structure's HP are gone, there's only 30% of normal ammount of anomalies in the system for next 6 hours. System owners have to choose – form up and defend or their system will become a lot less valuable for that one evening. 6 hrs timer means that there will be no endless repping ops to keep that structure alive (that's boring) and system owners can't be griefed by a group of players from other Time Zone. Of course, those are numbers written on a napkin and should be carefull tweaked.
But it's a start towards populating 0.0 systems with people that will fight for benefits of living in nullsec.
– SokoleOko