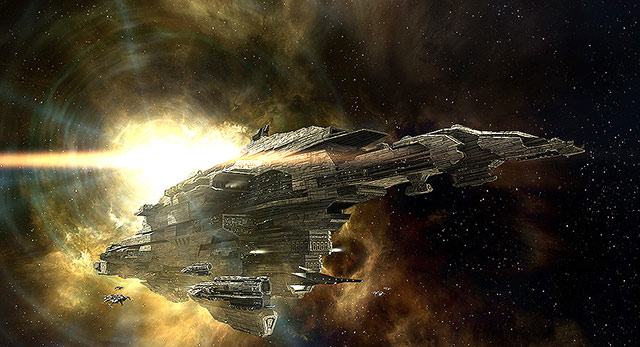 On July 16th, at 01:46 EVE time, the CFC had mass doomsday'd what was believed to be a Pandemic Legion titan alt in Fatal Ascension. Outted by Elo Knight, the "spy" was thought to have been one of SNIGG paik's alts. The evidence used to "convict" this pilot was based on what Elo said was "matching Manny's ip address." Shortly thereafter, with a convinced CFC leadership, Fatal Ascension allowed them to mass DD the titan that was the "supposed" spy.  The titan, having logged off, had none of it's hardeners online and active, thus melted quickly to the mass doomsdays.
Unfortunately this kill is not on EVE-kill or zkillboard, but you can find it here at the FA killboard.
[Update] http://eve-kill.net/?a=kill_detail&kll_id=18819883 api verified on zkb/eve-kill.
Shortly after this "spy" had been killed off The Mittani sent a jabber ping…
(7:59:11 PM) directorbot: So, we found Manny's Titan spy. https://killboard.goonfleet.com/km/697947 Thanks to Elo Knight and Digi for finding and uncovering this, Loquitur, TheAdj and Laz for executing the trap.

*** This was a broadcast from the_mittani to all-all at 2013-07-16 01:59:11.823338 EVE, replies are not monitored ***
Upon hearing that it was Manny's alt, I started talking to him about it and this was the following conversation…
(8:12:01 AM) SNIGG paik: hello
(8:13:25 AM) Firefox4312 Yatolila: Hi.. Had a friend from en24 chat with you last night, because I had to leave at the time, and I'm the one doing the article basically saying the CFC fucked up.. But on second thought, decided I want to talk to you personally, about your "supposed" titan loss.
(8:13:51 AM) SNIGG paik: sure
(8:14:36 AM) Firefox4312 Yatolila: I know the basic gist of what had happened, but what was the evidence that was brought to say "Hey, that's one of Manny's alts?"
(8:15:14 AM) SNIGG paik: Shared corp history in the past and supposed IPs that were close or matching to mine.
(8:16:08 AM) Firefox4312 Yatolila: Obviously the IPs didn't match since you're not out a titan. Why do you think the CFC believed Elo Knight about this?
(8:17:56 AM) SNIGG paik: tbqh I'm not sure really its quite the mystery to me. All of a sudden lastnight I started getting messages from tons of people asking me if I lost a titan
(8:18:13 AM) SNIGG paik: that was pretty much my first knowledge of this whole affair
(8:18:56 AM) Firefox4312 Yatolila: Getting a bunch of messages out of the blue like that, must be a little concerning in the least.
(8:19:02 AM) SNIGG paik: I've talked with CFC friends about it but Goons have not been forthcoming to anyone with any actual proof that lead them to kill it
(8:19:20 AM) Firefox4312 Yatolila: Other than Elo's word about supposed "matching" IPs
(8:19:59 AM) SNIGG paik: I suppose yeah. After the fact Phreeze posted on kugu that the levi was once his.
(8:20:33 AM) SNIGG paik: Whats funny is CFC extrapolated that post to mean he sold it to me
(8:20:56 AM) Firefox4312 Yatolila: Sounds like the CFC, jumping to conclusions of things they're not entirely sure about.
(8:21:31 AM) Firefox4312 Yatolila: But you're titan's still Safe and Sound I assume?
(8:21:53 AM) SNIGG paik: Very
(8:22:30 AM) SNIGG paik: its currently loaded down with about 10 BS hulls and ready to be moved to PL's next deployment zone.
So the titan that was killed by the CFC wasn't infact Manny's alt, as he said so himself. The evidence used to convict Yaaah, was obviously not as clear cut as first believed, and very sketchy as it was never a proven fact on whose account that was. As of now, I'm sure that FA pilot is going to be very mad at the CFC for nuking his titan, on a very bad set of evidence.
The credibility of both the CFC leadership and Elo Knight are in question here. For one, can Elo be trusted anymore on issues like this where he accuses the innocent on weak evidence that they're a spy, and can the CFC leadership be trusted to actually confirm these accusations before killing them off in a very Mafia-like style while the pilot is logged off?
After that conversation quote cuts off, me and Manny continued talking about it, and he was going through Yaaah's killhistory on eve-kill. And the very titan that died was responsible for killing 6 Black Legion dreads 2 months ago. That raises the question, was this an actual spy from PL? Or could it be what Manny said and a "BL spy that went rogue or something", or could it be merely a revenge killing? Either way, this doesn't look good at all for Elo Knight and the general credibility of Black Legion.