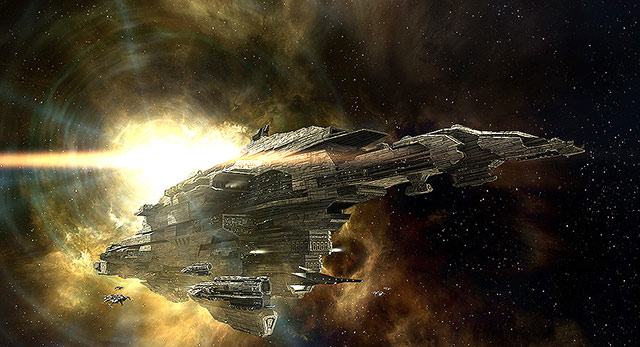 I don't fly titans. I may never fly a titan. I was not around during the overpowered heyday of doomsday devices, back when they destroyed everything but well-tanked battleships in a 250km radius of the titan. (For awhile, they could even shoot their doomsday through a cyno and destroy everything within 250km of the cyno on the other side.) That is some crazy-assed overpowered shit. I can't imagine who sold that idea at CCP.
Because of their destructive power, titans were something you saw frequently in nullsec fights. If you had a lot of subcaps on the field, somebody from the other side was going to try to get a titan in, so that you could have a bad day.
CCP eventually fixed doomsday devices. Nerfed them to hell, really. Now a doomsday can target one single ship. They can alpha a carrier or a dreadnought. But they can only do so once every 10 minutes. (Every 100 minutes if you're in 10% time dilation.) Their use as a combat ship, understandably, has dropped precipitously since then. Titans are mainly used to bridge now. Unless you have a ridiculous amount of carrier and supercarrier support (*cough* PL *cough*), you don't see them on-grid very often.
I'd really like to see the original doomsday design return in some lesser form. Make titans viable as a combat ship again. Something you do see on battlefields with some frequency.
This is just an off-the-cuff idea, so I'd love to hear from titan pilots and capital fleet commanders on the viability of the idea. Whether it would actually encourage their use in fleets. Hell, throw-out some of your own ideas. I'm not married to mine.
Doomsdays become a subcap weapon, and only effective against subcaps. They have some area of effect that is not small, but then not large enough to impact sniping ships. Perhaps something around 50km, maybe a little less. Rather than do some fixed amount of damage, instead they do a percentage of damage to the base hit points of a ship (this is before any modules are applied.) I'm thinking 50%. So all subcap ships within range of the doomsday will take 50% of their base hit points in damage. If a Megathron has 20300 base hit points (shield plus armor plus hull), then it would take 10150 damage when in range of a doomsday. If a Merlin has 1250 base hit points, then it would take 625 damage.
(Or you could apply damage as some proportion of mass. Or you could fix damage to hull size, thus assault frigates are sturdier than T1 frigates for instance.)
In terms of applying racial damage from a doomsday (EM, explosive, kinetic, thermal), you could adjust the 50% up and down depending on the resistances of the ship taking damage. If they have higher than a 70% resistance (averaged across shield and armor) in the applicable damage type, then they take less than the 50% damage. If they have lower than a 30% resistance, they take damage greater than 50%. Whatever, it's just a formula to fiddle with.
Of course, the doomsday should now have a decreased cooldown. Perhaps that cooldown is now one minute. Or maybe two minutes. The skill Doomsday Operation, instead of modifying damage, could modify the weapon cooldown.
Obviously, one titan cannot clear an area around itself solo, but if a fleet commander is willing to commit five or more titans to a battle, a 50km radius could be 90% cleared of subcaps.
What might be practical applications?
Take the Z9PP-H fight last week. Test Alliance had 70+ carriers mostly grouped together, all bubbled. Let's say Pandemic Legion drops in six titans. They all doomsday at the same time, they clear the area of hictors and dictors. Wait for the bubbles to expire. Rescue the carriers.
Doomsday titans could be used as protection from enemy bombing runs. Six or so titans doomsdaying simultaneously, not only destroys the stealth bomber fleet, but all of the incoming bombs.
It would be nice to see titans used more often again. It would be nice that they're fearsome, especially to subcaps, but not so overpowered that they become an imbalance. There'd still be a risk to using titans, but also some benefit to accepting that risk.
Your comments, negative or positive, are always appreciated.
You can read more of Poetic Stanziel's opinions at his Poetic Discourse blog.