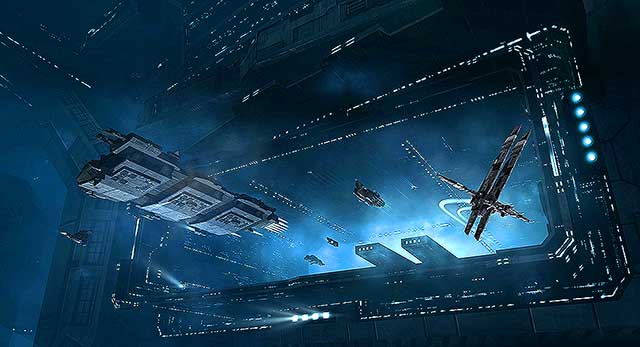 CCP Rise has posted details about the latest thinking on industrial ship changes. I decided I'd have a closer look at what CCP is proposing as an industrial "balance." What a mess. You can read them for yourself here.
Though I think it is intriguing they've split the Iteron into cargo specific roles, I don't see the point. I can already haul all of that stuff in a ship that is actually versatile. Under the new proposal, if I want to get max PI hauling capacity for instance, I have to buy another ship. I don't see the sense in that. Let me highlight something I said in my last post concerning these changes.
"We just want to know two things: how much will it haul and can it reach it's destination intact."
That's it. Why should I be burdened with having to think about what it can haul? Why should that even matter? I haul stuff – period. Give me a ship that I can fit to either be fast and agile, or big as hell. In fact, you only need one ship for this. I'll elaborate in a moment.
I think CCP has confused an outcry over aesthetics with a dissatisfaction with the original plan. They are two very different issues. We like the look of the Mammoth. Given a choice between it and another ship, keep that hull. That does not mean keep the Mammoth specs they way they are. That also doesn't mean we want every single hull kept.
The only reason I have any Iteron other than an Iteron V is because training into the Iteron V didn't happen instantaneously; I still had to haul cargo while I trained up. I still have an Iteron III sitting in my original system of Cistuvaert I haven't flown in over four (4!) years. Dropping the skill requirement as proposed means I'd have gone straight to an Itty V. The only other hauler I have is a Viator in the hole. I used to have a Occator, but it's too expensive for life in Anoikis when an Itty V does the job. I gave it to Kao Jai when I handed him MABMM. He also got my Orca. I just don't need them now.
What I do need is a versatile and inexpensive ship. I have a ship with 2 highs, 5 mids and 5 lows. I already have the ability to make that ship either fast or big. That's why I fly an Itty V, not because it looks like a baguette. It's because I can throw 5 Expanded Cargohold II's into it along with Medium Cargohold Optimizers and increase my cargo capacity to damn near 42,000 cubic meters.
Or, if I am concerned about gate camps, I can do this. I now have a ship that only hauls 20,000 cubic meters, but cloaks and insta-warps. BTW, if these changes go through this may not be possible with any of the "rebalanced" ships. I've not run any numbers, but it doesn't look like there is enough grid on any of the proposed ships to support this sort of fit. Those that might have enough augmented grid don't appear to have a max velocity in the sweet zone. But that's just taking a quick glance at the proposed specs. Still, if that capability gets nerfed out of existence… well… I'll let Marvin tell it.
Back to topic now, if I just want it to be fast, all I have to do is fill the lows with Nanofiber Internal Structure IIs and the rig slots with Hyperspatial Velocity Optimizers. I then get a hauler that aligns in 7 seconds and goes nearly 9 au/s. It hauls only 7500 cubic meters of cargo, but there is always a trade off. That tradeoff should be up to me and how I fit my ship.
We don't need a dozen different T1 haulers. That's always been ridiculous. Why not dump all the racial variants and give us one (1!) T1 ORE ship to replace them all? Make that one ship as versatile as the Itty V is now. There is no need to get all wrapped around the axle on what ship will have what role, etc, etc. As I said before, it just has to haul stuff and get there – that's it. Let the pilot decide how to fit it based on the needs of her route. Seriously, hauling stuff isn't like PvP. There are not a lot of different scenarios calling for different ships with various capabilities, and ego/vanity is almost never a consideration. Keep it simple is the best policy here. Let the industrialist decide what role her hauler will have.
Fly Carefully
– Mabrick
He's been around the block a time or five. With over 15 years of MMO playing under his belt and a memory that reaches back to pencils and dice, he offers his insights into the not so virtual reality we call Eve Online.