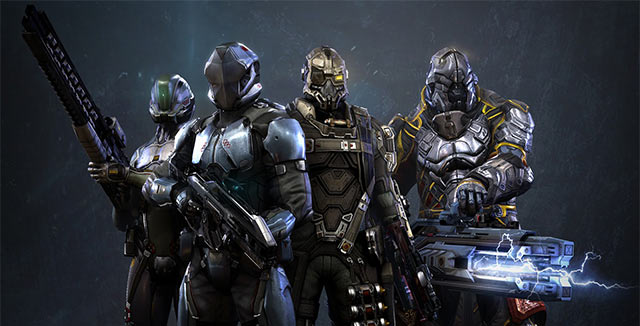 DUST Mercs is a Dust 514 dedicated blog which has been lining up and reporting on DUST 514 from day one. We invite you to visit their blog at dustmercs.blogspot.com.
'I am shocked and appalled. Did they just xerox the assault frame, paint it yellow and call it the Gallente Logi? I hope the art team is as pissed as I am. I feel cheated! Tell me this is getting fixed down the road and the different racial versions of the Logi and a true Minmatar Assault are getting added.'
-Prius Vecht
DISCLAIMER: While we accept that gameplay and balance are priority, visual elements are important. The specific styles of each race are one of the things that helps Dust avoid the blandness of most shooters. The decision was made recently to save time before launch and to use the same designs of for all medium frame suits. We understand that back end connection and core gameplay issues have precedence, but Dust struggles right now in its variety. Lets see the specific Logi frames for each race [in addition to a true Minmatar Assault frame] added to the games library.
There are four default classes in Dust 514, and it has always been such. The quick, and lightly armored recon, the more balanced assault, the jack-of-all-trades, support focused Logi and the slow but powerful Heavy type. Each is represented very well by CCP's wonderful art team. Even moreso, each of these core types are separated by the different racial types. The efficient and angular Caldari, the organic, bulbous Gallente, the unconventional, utility styled Minmatar and the grand and design conscious Amarr. These varieties do so much for the game and we almost found ourselves anticipating what certain variants would look like.
It was awesome during Fanfest to see each races representation of the four classes. First revealed was the Minmatar Scout, the fastest suit in the game. It maintained the Minmatar style of a band of resourceful former slaves relying on speed, cunning and substandard equipment. Next, the Amarr Assault was revealed and it stayed true to its roots but looking Ceremonial and regal with its Imperial Guard-like design. Last was the Gallente Assault, and it didnt disappoint. The Gallente favor organic style design and the assault variant maintained this. We were excited to see the new Logi suits until we learned about the combining of the medium Assault and Logi frames for each race. We were heartbroken to find out that we wouldnt have the pleasure of seeing a true representation of the Minmatar Assault, or a Gallente, Amarr and Caldari Logi.
Which leads us to believe that the decision not to allow the art team to design a specific logi suit for each race was heavily influenced by the 5.14 deadline. The release delay and beta length all but prove the fact that Dusts production seems to have had an issue keeping its deadlines. We're not being overly critical of CCP, because this is an issue in virtually every industry. We have no issue with it because like most gamers, while impatient, understand that rushed and poorly tested content causes more problems than it fixes.
For that reason we understand that certain things were cut out of the official release.We're sure it was a hard decision to not have all of the racial dropsuits, game modes and maps that CCP intended but the shorter deadline made it impossible, and it appears some things had to be left out. That said, we hope adding a unique Logi frame for each of the four races is still a priority for CCP because we are sure most Logi players are excited to see them.
As always, we'll continue to attempt to help promote and publish ideas that help establish, enhance and grow the Dust 514 community as much as we can. Have any ideas that need sharing? Would you like to join our staff as a writer? Be sure to contact us at [email protected]