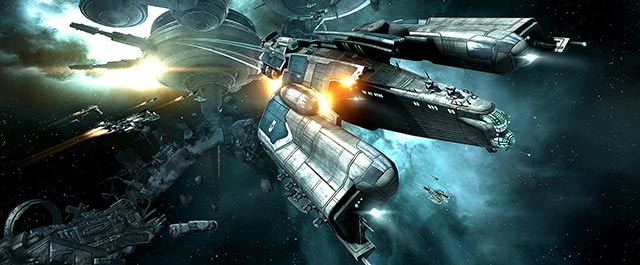 Undocking is permission for PvP. How many times have I read that? Far too many to recount here. That mantra is repeated so often it really has become banal. And whenever the PvP crowd feels their play-style threatened by those who would rather not PvP, the volume and tempo of the chant increases – exponentially. At points the shouters become unbearably absurd, as if they will rage quit if they can't shoot everyone anytime they want.
Yet I do not disagree entirely with the sentiment, volume and pitch of delivery notwithstanding. And that statement was just misinterpreted by every chanting PvPer reading this – both of them. Okay, maybe there are a few more than two, but I would wager ISK that every single one thought I just gave them permission to attack me.
I did no such thing. My comment is about a reality, not permission. When I walk out my door every morning, get into my car, and drive to work, I understand that it may be the last trip I ever make. The reality being life is dangerous. To be real, Eve Online must imitate life and that includes the possibility of death at any moment.
However, I do not seek death. I do not wish it upon myself and I must say I will resist it with every fiber of my being if it tries to pay me a visit. Fortunately that has not happened in a long time and in my previous encounters I obviously came out victorious. But I did not relish the encounters. Permission was never given. To this day I wish they could have been different. I did not ask for them and I certainly don't want them to happen again.
I believe that is a perfectly normal reaction for any living creature. I am sure all of you reading this who have had such an experience feels the same way: happy to have come out on top and just as certain you never want to go through it again. If you say otherwise you are lying to yourself. Life seeks to survive – it is in our biochemistry – and we can no more feel otherwise than we can deny evolution and not seem a fatuous luddite.
So let's paraphrase that famous Eve Online mantra in this light. Leaving your house is permission to be attacked. How does that sit with you? Oh, you don't mind? You're a realist – or a fatuous luddite – and proud of it? What about those you care about: girlfriend, spouse, mother, child or dog? That's different isn't it? You don't want them attacked when they leave the house. Why not?
Shove it. Your opinion doesn't matter. Leaving the house is permission to be attacked. The mewling masses need to understand this. Death is a fact of life. Life can end at any moment. I must make them understand this! And it's oh so easy to take out a child. They are practically defenseless and offer no real threat of turning the tables. All one has to do is get the drop on them and it's over before the child even realizes it; no chance of escape. I am so big and they are so small. They don't even realize the danger they are in. All I have to do is wait for the school bus to drive away and grab her. And wouldn't it be exciting if she cried and no one came to save her? Cry as much as you like little one, daddy can't find you. I've made certain of that. Maybe she'll plead for their life before the end. That would be a juicy memory – the tears; the begging. Delicious…
Repugnant isn't it? The child does not exist to be a victim of the murderer. No one does. No right minded person would ever claim this is acceptable behaviour, let alone defend it. That is why our societies have such detailed rules concerning when it is allowable to kill others and who are always off limits. Countries can go to war and kill millions and that is acceptable, but one man cannot abduct a child from a bus stop and torture her to death.
But Eve Online is just a game. And we can do whatever we want because it isn't real life regardless of what the motto says. Except we are all living creatures; driven by a biology that tells us the mantra is wrong when the victim is unwilling. So you see, undocking really isn't permission to PvP. Undocking is acceptance that violence may happen, but it is not permission. And if you take nothing else from this post, learn this truth. Carebears do not exist to facilitate your play-style. You have no right to view us that way. And you are wrong to believe you EVER have permission to shoot an unwilling victim.
Fly Careful
– Mabrick
He's been around the block a time or five. With over 15 years of MMO playing under his belt and a memory that reaches back to pencils and dice, he offers his insights into the not so virtual reality we call Eve Online.
PS: I will be particularly picky and subjective on approving comments for this post. If your post contributes little to the discussion, I will not allow it.