Adhocracy had a few guys on the ground at PAX East, and Johnnykefka was kind enough to do a little AAR of the CCP meetup. Just a little scuttlebutt, there's a few juicy little tidbits on the upcoming expansion. Hope you enjoy! ~ Mouse.
.
Johnnykefka:
Fucking. Amazing.
First of all, they had a competition to name all of the expansions, counting backwards. I didn't know all of them, but I knew back to Quantum Rise, and that was more than anyone else. They also had a scavenger hunt for 50-day timecards which was delightfullly predictable if you could figure out how CCP Dolan thinks. Long story short: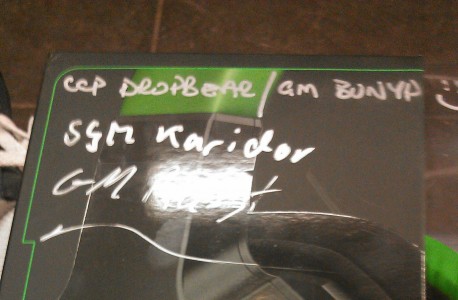 So in that image you may notice a signature at the top that says CCP Dropbear. That is no typo. CCP Dropbear himself, GM Bunyip, was in attendance. We chatted him and CCP Eterne up hardcore. TL;DR we begged and pleaded for more WH storyline, and by the end of the night CCP Eterne said, "I will try to get you guys something". Operation: Success!
We told CCP Dropbear that we had tried every module on every doodad in every sleeper site we could reach, and he apologized profusely saying that if it was in his power he would have left us things to find. We told CCP Eterne the same thing and he got this really thoughtful look so…keep your eyes open. Not immediately, but if you see an inexplicable patch in a month or so…we should go poke some stuff.
Also got to chat up CCP Unifex about DUST and the new expansion, and CCP Dolan about stuff. CCP Dolan told us how the POS code was constructed, in very loose terms. CCP is somewhat forgiven for their lack of progress on it, it sounds like staring into the unblinking eye of an Elder God, fueled by drunken Icelandic programmers. He discussed it as an inverted pyramid and the top of it was rat AI, better known to us as Skynet. Yes, the POS runs on the same NPC AI as pirates and faction police. I shit you fucking not.
Mouse, here's the summary of everything I can remember from the Q&A and the meetup:
– Almost everything they are doing will be announced at Fanfest. There was a lot of stuff to which CCP Unifex responded "watch this space", including:
Rumors about the Gnosis making its way to TQ.

Corp interface rework. (definitely being worked on, may not be done for the summer)

POSes POSes POSes, and more POSes.

Something on the 10th anniversary. (May 6th)

Moving moon goo and every other kind of industrial resource (i.e., non-static resources, missions, rats, everything).

Nullsec being advantageous to the production of anything other than supercapitals.

Tweaks to how you can gain your own sec status.
.
What has been Confirmed:
Navy tier 2 BCs; Harbinger, Hurricane, Brutix, and Drake.

New Exploration stuff, content TBA.

V3 stations, V3 capitals, working on V3 supercaps. (timeline still "To Be Announced" on some of it, but it's on the list!)

More, better, and bigger live events.

.
What has not been Confirmed: ("We've talked about it, but all we've done is talked about it". Read; not anytime soon)
Pirate FW (neutral FW captures, like people have asked for in OMS)

Players being able to affect the sec status of a system. (!!)
——–
Interesting weeks ahead for us all EVE Junkies. 😀
Again thanks to Adhocracy and Johnnykefka for bringing us this amazing scoop.
~ Mouse