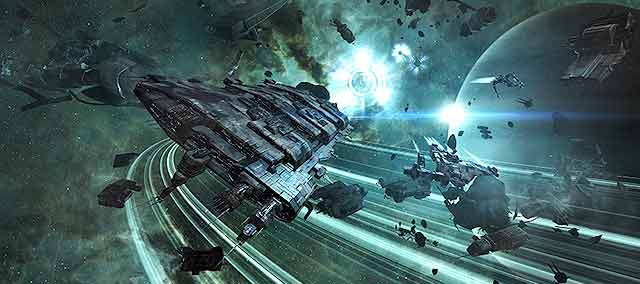 One of the staples of internet spaceships press these days are the perennial articles about how to fix null sec whilst maintaining the current status quo with only a minor changes. Some ideas are more viable than others and yes, one will always bump with the "something like this is aimed to harm [insert any power-bloc name here]" accompanying reader commentary. What's interesting is how few of those articles address the issue of the renting "mechanics" within EVE Online.
Opinions regarding renting differ; some people swear it's voodoo and therefore should be banished from the face of New Eden while the supporters say it is a good way for "lesser alliances" to contribute and experience null-sec gameplay first hand while enforcing a "bottom-up" income source for larger entities.
Rent?
Renting alliances and corporations – Believe it or not they are the true architects of current Null sec. I dare say this because I have direct relationships with renting corporations for my coalition (One with a ton of russians). I am not the leader of the renting team, but I still deal with renters on a daily basis while trying to attract new ones. The reason behind me calling renters architects is simple; every time I start negotiations with a potential renting corporation they always ask the same question: "Can I build a station in that system?" or "Can I have JB/Cyno Gen/Cyno Jammer installed somewhere close to my rented space". Shadow of xXDEATHXx, renting alliance of Legion of xXDEATHXx can be a good example since they constructed the majority of the outposts within the drone regions.
I understand that CFC for example or HBC aren't "drifting in the same ship" since they are building the infrastructure on their own. They do not need any income from renters while having moons, but you have to remember that regions belonging to the coalitions mentioned above used to have renters. Renting is not a recent invention. It has existed for some time. Almost as long as the art of scamming.
Renters (noun) – Those poor souls that put a lot of effort into supplying a variety of ships, mods and other stuff that we all use in Null sec or empire. They kill rats, loot, salvage, reprocess and build. All those faction dead space modules you see in Jita are owned by renters running complexes or ratting in belts.
Outposts (noun) – When an alliance leader hears this word, the first thing that enters  his mind is the Gallente outpost. Who wouldn't love an outpost with a few bonus offices? As long as they have a view. The ability to stage more troops in a single system is every leaders dream. Meanwhile renters consider all four types of outposts and build the one that suits their needs most of all. Their needs are based on what activity they doing in the surrounding systems (mining, rat hunting, manufactoring, researching).
Building (verb) Outposts (noun) – Landlord will try not to waste ISK on building outposts but if he had to the scenario would be the following: Open a Dotlan and see which systems cover most of regions within his titan's bridge range. That would be normal behavior for a military person. He would then try to stage his troops as close as possible the the various potentialbattlegrounds.
Renters on the other hand would also see what the constellation is good for, what type of stations are close to it and what type of infrastructure it is missing. He would then install the missing type of outpost or he would check if the system has enough production or research outposts. If he finds they those outposts can't keep up, he will construct another of the same type.
Trading (verb) – Trading is also one of most profitable ventures to get involved  in Null sec. Most people tend to keep trading alts while some train the skills themselves. The bring in goods from the Empire market and sell it in Null sec with a little slice of profit added to the price.
Renters have a different approach. Once I had my alt in renting corporation just to carebear on the side while we were on deployment. I saw very interesting things while being a member of that corporation. CEO of said corp was purchasing minerals, salvage and loot from corp members for prices slightly lower than in Jita. With those, he was producing T2 modules, T1 rigs and selling them within the same region for less than the traders would. this created a very nice chain where everyone was happy – Minders and Salvagers could sell minerals immediately without even bothering to move them, PVPers could fit their ships for a decent price and have a nonstop supply of modules.
Landlord alliance of course have their own income to keep SRP running and ships exploding. This is win-win situation if you ask me.
BOTTOM UP & TOP TO BOTTOM INCOME
We all say that bottom up income is much better. It is great for the individual pilot. Everyone wants to be rich.
BUT!
Null sec alliance has a very nice feature called SRP aka Ship Replacement Program. Now imagine that you have a peace. You rat carelessly and a small part of the bounty you get from NPCs goes to your corporation's wallet. You are rich, and your alliance has an income.
Now, take a step back and look at the bigger picture.
The income you generate is nowhere near enough to keep the bills for infrastructure paid. In this case you have no jump bridges, it takes ages for your alliance to upgrade system you run sanctums. Finally, SRP is limited to specific ships and specific amounts. In order to increase corporation or alliance income they have to increase tax rate. Thus lowering your income. Moreover, we have not even got to worst part yet. Worst thing is that your PVP activity is limited. Now imagine a war breaks out. Enemy pushes you and your FC derps fleet after fleet (Opa Gangam DBRB Style). Your alliance's wallet slowly depletes. To fill it back up and keep fights running alliance leaders are forced to call CTP (Call To Pitchforks). Can you people imagine an alliance wide carebear op? Do you actually think this is what you want? Who will benefit from this? I play this game to blow ships up and not NPCs! This type of thing will not encourage your FCs to ignite conflicts and run fleets. Every time your ship will explode, you will rage. I can only guess as to why people want to see bottom up type on income – Your alliance CEOs that spend ISK generated from resources alliance possessions are unable to clearly see what that money isk is spent on. Those are main reasons people want to see bottom up income.
Still, even now this type of income exists – Renters pilot rats generating ISK for his corp wallet > corp pays that ISK to landlord > landlord spends ISK on alliance needs (infrastructure bill, SRP etc.).
Fact that you cannot see how ISK is spent has nothing to do with ISK generating mechanics. Bottom up sounds like a chance to get rich, but even this is very short sighted approach. More rich pilots -> more ISK spent on goods -> inflation.
Personally I feel that the issue lies not in the way ISK flows, but in the way it is generated. Moons, mining belts and sites. They should not be static. Regions should gain and lose resources so alliance leaders will always have to defend or conquer different regions. I would not go into details since I still don't have clear understanding of how things are done here, all I can say is that those things must be reviewed by CCP and tweaked a bit (maybe a lot).
– Sergo