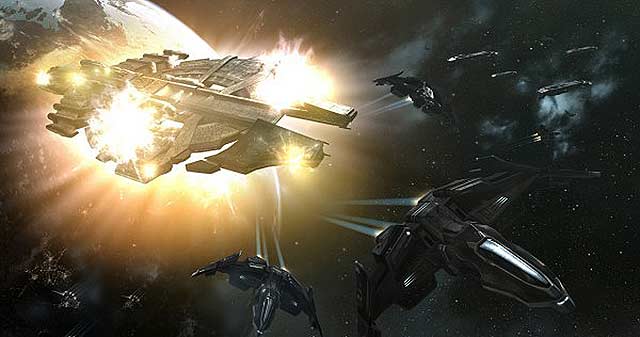 I've been in many black ops gangs and done a good deal of them myself. So while we (NC.) were engaging many different targets starting from solo carebears up to gang engagements with blops, I've always wanted to show that a properly formed and organized black ops gang is capable of more than just startling unsuspecting victims.
Today, my wish finally came true.
I got word from our scouts about a ratting Nyx in  OZ-DS5. After checking the system, we found three Thanatos, an Archon, a Machariel, a Tengu and, of course, a Nyx ratting. They had a cynojammer online and understandably felt safe. I decided to use that to my advantage. My friend, GoDziIIa, and I started to prepare a plan for killing it. We brought an Arazu with a covert cyno into system and left it there with logged off dictors next door.
The first day was boring. The people living there logged on and off periodically without moving out of the POS. On the second day a Thanatos decided to roll the dice and started ratting. In the hopes of catching a bigger fish, we decided to wait.
The third day, the waiting finally pays off.
A Nyx logged in and did sanctums while aligning to the POS. We start to form up a black ops fleet. After finishing one anomaly, he warped back to the POS then warped to a new anomaly from it. The chances of catching him were still low so we waited until he made a mistake. Finally, he made it by warping from one anomaly to another. We realized that now was our chance.
Now or Never
GoDziIIa warped his cyno alt to the anomaly while his corp mate jumped in with a Sabre to tackle the Nyx.
Cyno went up, black ops and bombers bridged into system. The Nyx was bubbled and tryed to get out. Our black ops pilots anchored mobile bubbles and bumped the Nyx back. We hit him but somehow he was able to tank us. By this time, I am trying to get ANY support I can before hostile reinforcements arrive. I asked PL friends for help and they quickly dispatch their BO fleet.
Realising that we will not simply let him go, the Nyx pilot decided to fight his way to safety. He dropped fighter bombers and engaged our black ops. His two corp mates logged in as well and warped 2 Thanatos in. They tryed to assist him in the fight but it was already too late. The Nyx hit 50% armor. We applied RR to each other but 1 Panther remained out of rep range and died.
Finally, PL black Oops and our Herocat fleets get into system to reinforce us. They immediately engaged the carriers and kill one. I'm not sure what happened to the second carrier. I think he warped off or died. I was too busy tanking rats, fighters and repping fleet members. In the end, we all focused on the Nyx and he finally died.
We looted the wreck, thanked each other and left system.
Amat Victoria Curam