I am not going to write an epic wall of text promising wonders against botters. Regarding the issue of bots, my stance is to take action.
As usual I have no relation to CCP Games; in fact am surprised they let me run. But I am of the opinion that botting is outright cheating. Most botters try to justify themselves saying that their ISK keeps the PLEX market alive. This couldn't be further from the truth. The EULA abiding players who spend real life money on PLEX and GTCs are the one keeping the market alive. Anyone saying otherwise is a cheater and a lump of shit.
Botting screws you, the market, devaluates ISK, affects CCP, and degrades EVE Online in general.
RVRNICSM7 – A UNITED EVE AGAINST BOTS
We have all heard about the great things CCP Games have been doing to combat bots, some of which its effect have been felt stronger during this last week.
So, in the spirit of celebration I asked myself, why should CCP have all the fun? Why not impart some street justice ourselves?
This is what I would like to ask you to do. If you see a botter, whether you are running your own missions, mining, ganking, ratting, or even market trading, report him.
Reporting him to Eve News24 won't do any good – nor is it our desire to know whether you report a bot or not. CCP Games is the one who takes action against bots – they'll check every single case and take care of the red-tape.
How Do I Report a Bot?
For full disclosure, make sure you read CCP Pollux's devblog on bot reporting. The TL'DR is: right click at the top-left corner of the char info window and select report bot.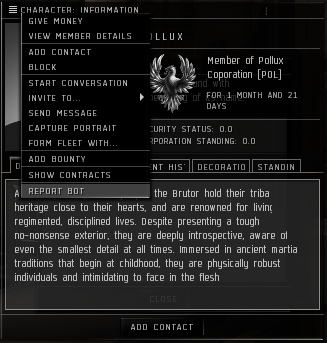 Be advised, this is a serious tool so don't be a dick and report someone who just ganked you. It will get you in trouble. Think, analyze and then act.
How to recognize some botters: Praise be to the Chribba
There are easy signs; take this eve-live Jita for example. Most "deal spammers" are in fact botters. Set the limiter to 2500 rows and look for anyone spamming the same crap for several hours in a row.
This one spammed Jita 1500 times during the last 2 days with an inhumane frequency of 34 seconds on average.
When you see stuff like that, report it please. The eve-live.com tool allows you to click on name and see their conversation for popular public channels.
When in doubt, praise the Chribba.
What About PVE Bots
Regarding the PVE bots, here is an excellent guide on identifying them: The Rise of the Isk Printing Machines.
Apart from that, high-sec botters will mostly react in a stoic manner when they get bumped out of their align at stations, so that's a good sign. Again, use your mind and have fun.
I Am a Botter,; You Just Lost my Vote Riverini
If you are a botter, here is my official statement:
If you chose to be part of this, keep in mind the fact that CCP Games is now locking the account char transfers, so botters have no loopholes to escape a well deserved ban.
Have fun and happy hunting.
Riverini
CSM Candidate for the United EVE Party
EVE News24
Eve News24 invites you to show your support by liking our CSM thread, it takes less than a minute and every like makes a ton of difference.

Remember to +1 riverini's CSM Candidacy post at the official EN24 thread.
[spoiler show="Did we mess up?"]
We want to give you guys the best possible intel, to post as fast as we can confirm it, but Eve being :Eve: is quite confusing. If we messed up with our intel, please contact us directly [email protected], provide the proof of it and we'll correct it immediately noting the change and bringing the correction on top of the article list.[/spoiler]
If you would like to send intel or contribute, feel free to use the form below:
[spoiler show="Submit Intel Here"]

[/spoiler]